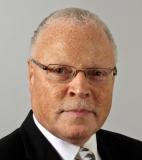 Lee Saunders, President
Lee Saunders is the president of the American Federation of State, County and Municipal Employees, AFL-CIO, which represents 1.6 million members. He was elected at the union's 40th International Convention in June 2012.
Saunders, the first African American to serve as AFSCME's president, was previously elected secretary-treasurer at the union's 39th International Convention in July 2010.
Saunders grew up in a union household in Cleveland, Ohio. This inspired him to join the Ohio Civil Service Employees Association (OCSEA) when he began working for the Ohio Bureau of Employment Services in 1975. His father was a bus driver and a member of the Amalgamated Transit Union. His mother was a community organizer and, after raising two sons, returned to college and became a community college professor and a member of the American Association of University Professors.
Saunders began his career with AFSCME in 1978 as a labor economist. He has served in the capacities of assistant director of Research and Collective Bargaining Services, director of Community Action and deputy director of Organizing and Field Services. Saunders also served as executive assistant to the president of AFSCME and was responsible for managing what is acknowledged to be one of the most effective political and legislative operations in the history of the American labor movement. AFSCME's clout in fundraising and member mobilization, and its lobbying expertise are unmatched in the ranks of the AFL-CIO and beyond.
Building on ideas generated by local unions, Saunders has championed AFSCME's Next Wave initiative to encourage and develop the next generation of union leadership. He has also developed and supported programs that foster diversity and promote increased member participation within the union.
He has served as administrator of a number of AFSCME councils and large local unions across the country. For nearly four years, he served as administrator of AFSCME District Council 37, New York City's largest public employee union, representing 125,000 members. In that capacity, he was successful in restoring the fiscal health, integrity and good name of the council and its 56 affiliated local unions.
Saunders serves as a Vice president of the AFL-CIO Executive Council, which guides the daily work of the labor federation; he also serves as chair of its Political Committee. He is an at-large member of the Democratic National Committee, president of Working America and treasurer of the Leadership Conference on Civil and Human Rights.
He received a Master of Arts degree from Ohio State University in 1974, a year after earning his Bachelor of Arts degree from Ohio University. In 2002, the College of New Rochelle awarded him an honorary doctorate degree in Humane Letters.
Saunders and his wife Lynne live in Washington, DC, and have two sons, Lee, Jr. and Ryan.

 Elissa McBride, Secretary-Treasurer
Elissa McBride is secretary-treasurer of the American Federation of State, County and Municipal Employees, AFL-CIO, which represents 1.6 million workers. She was elected by acclamation by the International Executive Board in March 2017.
McBride joined the labor movement as a member of the United Auto Workers District 65 in 1989. In 1991, she was recruited to the AFL-CIO Organizing Institute, a new initiative to expand the ranks of union organizers and grow the labor movement. During her years as an organizer, she worked with factory workers to form unions and win first contracts in North Carolina, Texas, Ohio, Vermont and Rhode Island. One-on-one communication, workplace power and direct action were critical to those victories and remain central to her philosophy of trade unionism.
Those early successes led McBride to become the New England organizing director for the Amalgamated Clothing and Textile Workers and later to direct the AFL-CIO Organizing Institute training program. At the AFL-CIO, she trained hundreds of community activists and organizers to build power in their workplaces by reaching workers one-on-one and moving them to take collective action.
McBride joined AFSCME as the director of the Education and Leadership Training Department in 2001. In this position, she has used interactive teaching methods to prepare union members, leaders and staff to lead the labor movement into the future and become more effective champions for equality, justice and dignity on the job.
She led the creation of AFSCME's Leadership Academy, which includes programs to help AFSCME leaders build strong local unions through strategic planning and team building; to inform members about how the union works through online classes; and to equip senior staff and elected officers to lead the union in challenging times.
She also played a key role in creating AFSCME's Faces and Voices training program, which gives librarians, health care workers, school bus drivers and other AFSCME members the tools to be effective communicators for the union. In the Faces and Voices classroom, members tell their stories of providing public services in communities across the country and develop those stories into powerful messages to co-workers, politicians and the public.
McBride lives in Takoma Park, Maryland, with her daughter, Rosie.